Start saving money TODAY with our popular, cost-effect refillable filtered water coolers. Goodbye to bottled water – forever! Choose free-standing or bench-top models, either refillable, or plumbed-in POU filtered water coolers.
All systems have options for hot / cold or chilled / ambient models.
Service: Full service agreements are provided as standard on ALL systems. Your health is our priority.
Filtration: Quality filters are used for Chlorine, Chemical, Bacteria, Dirt, Taste & Odour removal. Reverse Osmosis is available for Fluoride Removal.
Business Class Refillable Systems
Smarter Water market filtered water coolers.
Choose your model – contemporary ideal for stylish interiors.
More traditional neutral coloured coolers for light-industrial and workshop

ENQUIRE NOW
Office Free-standing POU
New sleek design makes this ideal for the office environment.

ENQUIRE NOW
Office Bench-top POU
When floor space is limited this unit fits neatly on an office counter-top.

ENQUIRE NOW
Modern Office POU Plumbed-in
Point of Use water coolers provide refreshing cool/cold or hot/cold water in a dispenser designed for the modern environment.

ENQUIRE NOW
Free Standing POU Plumbed-in
Sleekly designed mains water fed water cooler ideal for heavy usage and harsh environments. Popular for gyms; large staff areas, bakeries, commercial kitchens, factories and hospitality.
Features
Large 12 litre chilling tank
2 litre hot tank if required

ENQUIRE NOW
Bench-top POU Plumbed-in
This smart counter-top version of the above free-standing unit is ideal where floor space is limited.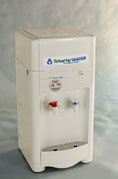 ENQUIRE NOW
Under-Sink Filters & Reverse Osmosis
A range of solutions are available for commercial hospitality such and cafes, clubs, restaurants and bars.
Features
Under-sink twin filter set-ups
Installations for your workplace or home
Advanced purification with Reverse Osmosis for ultimate filtration including Fluoride removal

ENQUIRE NOW
Under-sink and remote chillers
A range of options to suit your needs;
Remote/under-sink chillers, suitable for domestic or small office applications. Approximately 8 LPH cooling capacity. 1.9L storage tank.
Larger light industrial systems with approximately 10L per hour cooling capacity. 2.5 litre storage tank.
Heavy duty water cooling and storage system provides enough cold water to cope with the most extreme periods of high demand. Ideal for Public access areas, Schools, Mines, Construction sites.